This exhibition has ended.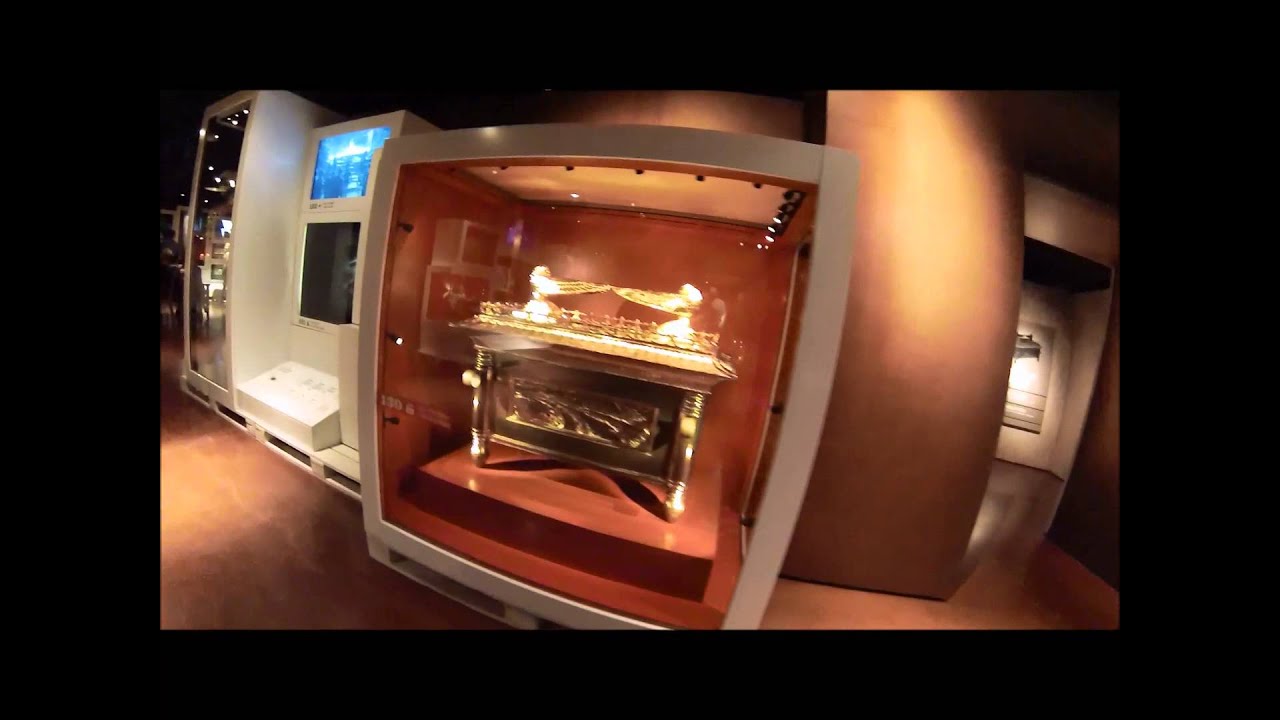 Preview
Exhibition
Experts
Partners
Presented by the National Geographic Society, and made possible by Lucasfilm Ltd., Indiana Jones™ and the Adventure of Archaeology is an innovative exhibition that immerses visitors in the science of behind field archaeology.
As it leads viewers on a museum adventure inspired by their beloved film hero, Indiana Jones, the exhibition connects his fictional world to facts that are true to the science of archaeology – whether in the search for treasure, the discovery of artefacts, or their analysis and interpretation.
The Indiana Jones brand humour and adventurous spirit is infused throughout the exhibit to help engage viewers and stimulate their imaginations. Consequently, the exhibition holds broad appeal for all audiences: neophytes and experts, families, film fans, tourists and the general public alike.
Content
Included in the exhibition is a vast and exclusive collection of original Indiana Jones film props, models, concept art and set designs on loan from the Lucasfilm Archives.
As viewers learn the factual and historical inspiration behind Indy's adventures, they will also be exposed to some of the world's most impressive material remains and cultural artefacts from ancient societies. Genuine archaeological artefacts and educational material will be provided by the University of Pennsylvania Museum of Archaeology and Anthropology (commonly known as the Penn Museum). The National Geographic Society, the exhibition's global presenting partner, also share some of its revered artefacts, photos, videos and articles.
La Société National Geographic, partenaire-présentateur international de l'exposition, partagera également certains de ses précieux artéfacts, photos, vidéos et des articles provenant de leur archives de renommée mondiale.
Environment
In an environment spanning over 1,000 square meters and featuring state-of-the-art technology, this first-of-its-kind touring museum exhibition transforms the museum experience into an interactive, multimedia adventure.
Equipped with an intelligent hand-held video guidebook, visitors are immersed into the legendary world of Indiana Jones as they embark on a quest to uncover the true origins of archaeological mysteries. Loaded with comprehensive educational content, photos and videos, the multimedia companion guides visitors along the Indy Trail (where they'll learn about the facts behind the content in the Indy movies) and the various Archaeological Zones of the exhibition (which establishes links between the films and the interpretation of artefacts).
Archaeology and Local Treasures
Indiana Jones™ and the Adventure of Archaeology sets the wheels in motion not only to inspire, but most importantly to cultivate a lasting interest in archaeology. The world abounds with treasures, some of which can be found in our own backyard. The exhibition is designed in such a way that the last gallery is dedicated to local archaeology that has been found throughout the region.
A Team of Experts
X3 Productions has gathered a team of world-renowned specialists to ensure the exhibition presents a factual interpretation of the principles and methodologies of field archaeology. With their recognized expertise in academic and applied archaeology, Dr. Michel Fortin and Dr. Fredrik Hiebert have helped to create and develop the exhibition's educational content.
Dr. Michel Fortin
With a specialty in Near Eastern archaeology, Dr. Michel Fortin is a Full Professor of Archaeology who has been teaching in the Department of History at Université Laval in Quebec City for nearly three decades. He has led numerous excavation teams in the Middle East and is a true ambassador to his profession.
Dr. Fredrik Hiebert
Archaeologist and National Geographic fellow Dr. Fredrik Hiebert is a veritable field expert who has searched for human history in some of the world's most remote and exotic places. An expert on the ancient Silk Road, his discoveries have made international headlines.
LUCASFILM LTD.
Lucasfilm Ltd., a wholly-owned subsidiary of The Walt Disney Company, is a world leader in cinema, TV and digital entertainment production. In addition to TV and movie productions, the company's activities include visual effect, sound, state-of-the-art digital animation, interactive entertainment software, and management of derivative products from various entertainment properties, including the legendary Star Wars and Indiana Jones franchises. Lucasfilm Ltd. head offices are located in North California.
For more information, visit www.lucasfilm.com.
National Geographic Society
The National Geographic Society is one of the world's largest non-profit scientific and educational organizations. Since 1888, National Geographic has shared unforgettable stories and groundbreaking discoveries with each new generation. National Geographic supports critical expeditions and scientific fieldwork, advances geography education, promotes natural and cultural conservation, and inspires audiences through vibrant exhibits and live events.
For more information, visit www.nationalgeographic.com.
Penn Museum
The Penn Museum (the University of Pennsylvania Museum of Archaeology and Anthropology, located on the Penn campus in Philadelphia) is dedicated to the study and understanding of human history and diversity. Founded in 1887, Penn Museum has sent more than 400 archaeological and anthropological expeditions to all the inhabited continents of the world. The Museum's collection of nearly one million objects include world-renowned artifacts from ancient Egypt, Mesopotamia and the Mediterranean World, Asia, Africa, Polynesia and the Americas. With an active exhibition schedule and educational programming for children and adults, Penn Museum offers the public an opportunity to share in the ongoing discovery of humankind's collective heritage.
For more information, visit www.penn.museum.
Laval University
The archaeology program at Laval University, unique for its type in Canada, distinguishes itself by its placement with the History Department and for its constitutive principle of interdisciplinarity. The university offers a program involving earth sciences, biological sciences, and theoretical sciences, as well as the social and human sciences, all of which constitute the kernel of the interdisciplinarity we aim for.
For more information, visit www.laboarcheologie.ulaval.ca.